About Us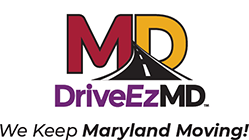 Whether you pass through a Maryland toll facility every day, or just a few times a year, DriveEzMD will get you there faster, with convenient payment choices and discount plans that will save you money and make your drive E-Z'er.
You may have noticed that toll plazas are disappearing across Maryland. That's because we have implemented the latest cashless tolling technologies to save you time and money.
Why Wait? Go Cashless.

Maryland roadways are 100% cashless. All electronic (cashless) tolling saves Maryland drivers time by eliminating congestion at toll plazas because there's no stopping to pay tolls. And by reducing engine idling, we're helping together to reduce carbon emissions. As we continue to remove toll plazas across the State, Maryland's new, statewide cashless tolling system will allow you to travel at highway speed across our network of bridges, tunnels and express lanes, with or without an E-ZPass.
Getting started is easy! We'll get you up and running in just a few clicks, with a variety of payment choices and discount plans that will save you money, no matter where and when you drive across Maryland.
How Does It Work?
Cashless tolling has arrived, Maryland!
Cashless tolling means you'll no longer have to slow down or wait to pay tolls at any Maryland toll facility. You'll simply drive across the bridge, through the tunnel, or along the express lanes.
Special sensors will detect your vehicle, and the toll will be automatically charged to your E-ZPass or your Pay-By-Plate account. If you don't have an account, you'll receive a Notice of Toll Due (NOTD) in the mail after you travel.
Learn more about our account types
Benefits of Cashless Tolling
There are many benefits to cashless tolling:
No waiting to pay tolls means you arrive at your destination faster.
You can save money on every trip by signing up for one of our convenient account choices.
With E-ZPass Maryland, our optional discount plans may save you even more!
Less idling time reduces wear on your engine, improves fuel efficiency and reduces the environmental impact of your trip.
More consistent vehicle speeds and less driver decision points help reduce crashes and improve safety on our roadways.
You can save time and money while improving safety and helping the environment! What's not to love?
DriveEzMD, as part of the Maryland Transportation Authority (MDTA), has been an industry leader in all electronic tolling, beginning with the Intercounty Connector (ICC)/MD 200 in 2011.
Start Today!
Stop digging around for spare change! Maryland drivers agree that cashless tolling is the easiest, quickest way to get to where you're going.
Need assistance?
Customer Information Center
1-888-321-6824
Monday – Friday: 7am – 8pm
Saturday: 8am – 2pm
TTY/Hearing impaired
Dial 711